2016 Fall Cruise by Don Swain
This year's fall cruise on the Hudson River fulfilled all promises of being both interesting and productive as both a cruise and mini-conference. Out host, the Hudson River Chapter of ACBS, arranged for dockage for our boats on beautiful Round Out Creek in historic Kingston Village, NY, treated us to a guided cruise south on the hudson as far as the Hyde Park historic area, and organized a conference where both chapters openly discussed mutual challenges and policies such as maintaining/growing membership and inclusion of boats made of fiberglass and metal.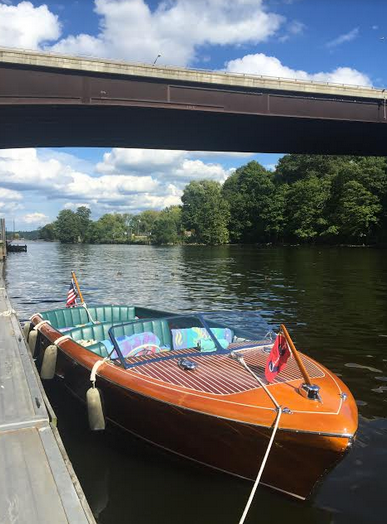 While docked on the Kingston waterfront, our members had the opportunity to tour the replica Viking ship that had recently crossed the Atlantic, the retired fire boat used during 9-11, the many exhibits at the Hudson River Maritime Museum, and the projects in progress at the River Port Wooden Boat School. In our spare time, our 12 attending members boarded our boats to cruise north as far as Saugerties to view lighthouses and the beautiful Hudson River shoreline.
We all returned home very well fed and full of historical information, and agreed that there was more to see and do than our time allowed. Both chapters agreed that we could benefit from attending additional cruises, meetings and boat shows at our respective home ports.